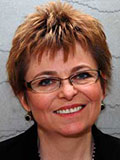 Becki Dobyns


Manager
Visual Communications Group
Small Business/Self-Employed Division


Becki Dobyns is currently using her 25-plus years of communication experience to manage the Visual Communications Group in the IRS Small Business/Self-Employed business unit. The group produces videos and webinars for taxpayers, tax practitioners, and IRS employees.

Prior to this role, she led the team communicating the IRS strategic plan, and worked communications for the IRS Wage and Investment Division, Communications and Liaison Division, Human Capital Office, and Agency-Wide Shared Services. Before joining the IRS in 2003, she worked for the U.S. Army Corps of Engineers where she developed communication plans and strategies, served as media spokesperson, and conducted media training and pre-camera coaching.