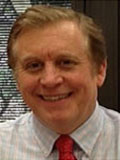 Richard G. Furlong, Jr.


Senior Stakeholder Liaison
Communications & Stakeholder Outreach
SB/SE Division


Richard Furlong is a Senior Stakeholder Liaison in the Mid-Atlantic Area Stakeholder Liaison office of the Internal Revenue Service Small Business/Self-Employed Division.

Mr. Furlong is a frequent speaker at continuing education seminars sponsored by practitioner organizations throughout Pennsylvania and periodically represents the IRS at practitioner conferences in New Jersey, Delaware, and West Virginia.

Mr. Furlong also collaborates with various organizations that assist the small business and self-employed community. He has conducted workshops and participated in forums sponsored by organizations including the Small Business Administration, the Pennsylvania Small Business Development Centers and the Women's Business Development Center.

He is a graduate of the University of Pennsylvania Wharton School with a Bachelor of Science degree in Economics.