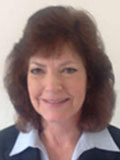 Jennifer Henrie-Brown


Stakeholder Liaison
Communications and Liaison (C&L)
Internal Revenue Service


Jennifer Henrie-Brown represents the IRS at education and outreach events and works with tax professionals, payroll providers, industry and trade associations, small business owners, and other Federal, State and local government agencies.

Jennifer has been employed by the IRS since October 1992 and has worked in outreach and education for over twelve years. Jennifer has also held positions in the Service as a Customer Service Representative, Taxpayer Service Specialist, Acting Manager of the Oakland Taxpayer Assistance Center office, Senior Tax Specialist, and Management & Program Analyst with Real Estate and Facilities Management.

Jennifer regularly speaks at organization meetings, conferences, seminars, forums, and workshops on tax related topics relevant to the tax professional or small business audience. She has represented the IRS at various media events, trade shows, fairs and expositions, both locally and nationally.

Jennifer holds a Bachelor of Arts from the University of California at Los Angeles with a major in Communication Studies, specialization in Mass Communication.