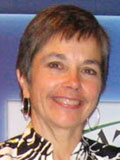 Sherry Saucerman


Senior Stakeholder Liaison Communications & Stakeholder Outreach
Small Business/Self-Employed Division
Internal Revenue Service


Sherry Saucerman represents the IRS at educational and taxpayer outreach events working with tax professionals, payroll providers, industry and trade associations, small business owners, as well as in conjunction with other Federal, State and local government agencies.

She has been employed with the IRS since October 1987 - thirteen years as a Revenue Officer, two years as an Offer in Compromise Specialist and the last twelve years in education and outreach. Sherry regularly speaks at organization meetings, conferences, seminars and workshops, both face-to-face and via webcast, on tax related topics that are relevant to the given tax professional or small business audience. She holds a Bachelor of Science degree from the University of California at Davis with a major in Genetics and a Master of Science from the University of Texas at San Antonio with a major in Biochemical and Molecular Biology.